Sing me a song
I bought two new albums this week. Both are really good. But in very different ways.
I purchased Pinks new album, "I'm Not Dead" (but I don't get the title, did we think she was dead?)and it is quite rocking.
I am rather impressed since I thought "Try This" was rather weak even though it had her highest rated single (not that I pay attention to those kind of things). But as an album where she was experimenting with her influences I felt that her voice got lost. But with this album she has once again found her voice and it is fantastic. The album is worth the song "stupid girls" alone as it does such a great job of critiquing stupid girl culture. But the rest of the album is very strong. So far in all my listens there is no song I don't like except for the bonus track. It is a duet with her dad, and well it just seems out of place on the album with the rest of the material. But the rest rocks, so I will forgive her that digression.
The other album is by the british band Sing Sing. This band formed out of the ashes of the britpop band Lush, who I was very upset over the demise of. But Emma found this duo and it is quite lovely. I had just found out that the existed and my discovering this coincided with the north american release of their latest album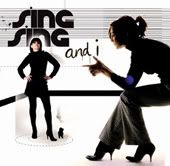 Lush was one of those great bands that got better with each album they released so when the drummer committed suicide after "Lovelife" I was shocked as his death is both horrible and it also meant that the band may never have gotten the chance to acheive it's potential.
It seems with Sing Sing that a lot of that potential has carried over. The music is hard to categorize as it is britpopish, alternative, rock, and a little bit of electronica. So I am happy to see all those genres smooshed together in one as they are all music that I like. The lyrics are simple and sweet in a X-ray specs kind of way and it makes me want to dance.
So since my life has been sucky lately I am happy to have two great albums to cheer me up.
In other news Travel Agent and I ended our three month relationship. No one is to blame, we just decided that we were drifting apart and that our time in the sun was over.
Yet - I am still upset by it. Last night it hit me hard. Today I am much better, but I think it is weird that it is over. With Travel Agent, for the first time in a long time I felt a connection that I had thought was gone. Albeit the connection was short lived, at least I know that the potential is still there. I am reading Margaret Laurence's "The Fire Dwellers" to cheer myself up in between bouts of listening.